Here you will find all interesting news about our events, cooperations and interesting information from the company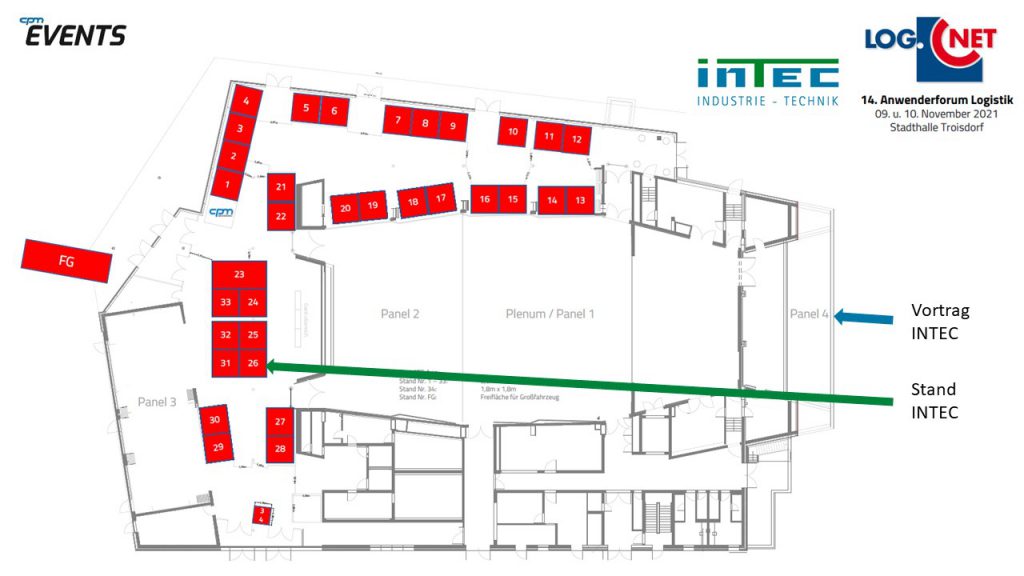 14th User Forum LOG.NET 2021
INTEC Industrie-Technik GmbH & Co. KG will present itself with its own exhibition booth at the 14th User Forum LOG.NET 2021 in the Stadthalle Troisdorf. From November 9th to 10th, we will show you an insight into the world of innovative and digitalized military logistics processes at our exhibition booth 26.
Under the motto Current developments, opportunities and challenges in the areas of future development, innovations and digitalization will be presented and discussed in the following 4 panels.

Panel 1: Logistical support – the future of military logistics

Panel 2: Digitalization of logistics processes

Panel 3: Innovative logistics services for the battlefield of the future 2030+- supporting basic logistics at national level

Panel 4: Standards & specifications – the DNA of efficient logistics support

On Panel 4, our Chief Data Scientist Sonja Victoria König will give an exciting presentation on Tuesday 9th November from 17:05 – 17:30 pm on the topic of Data Science in the ILS process – opportunities and possibilities through automated evaluation of standardized data.

Appropriately, our exhibition team has prepared some stuff from our research and development project XR Technologies and will be available for questions and answers. Feel free to take a look at how we integrate the complex data from design and technical documentation into the Hololens.

The INTEC team is looking forward to your visit at our exhibition booth and during our presentation

13. Jobmesse München im MOC
Am 16. & 17. Oktober 2021 sind wir auch endlich wieder auf der Jobmesse in München mit unserem Stand vertreten. Die Jobmesse findet im MOC Veranstaltungscenter, Halle 4, Lilienthalallee 40 in 80939 München statt und ihr findet uns am Stand 6. 
Kommt vorbei und informiert euch gerne über spannende aktuelle Stellen und den Karriereeinstieg bei der INTEC Industrie-Technik GmbH & Co. KG!
Dabei sind die aktuelle Hygienevorschriften zu beachten:
3G-Regel | Maske | Abstand | Registrierung
Das Team der INTEC freut sich auf Ihren Besuch.